My Images
I post my favorite images online at Flickr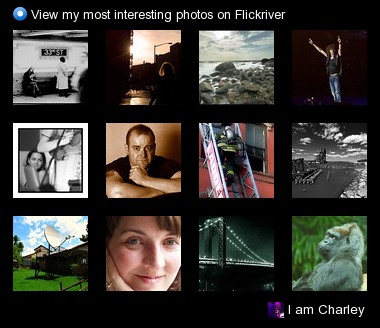 Making Photographs
Photography has been a passion of mine since I was a child. I'm not sure what it was that initially caught my interest. I think it was the ability to not only capture the moment; but to spin it as a tale – create an aura – see it in a different perspective. I guess that's all cliché, but it is true. I really wanted to be able to present the world in a different light or to express what my place in it felt like.
Equipment
My first camera was a Kodak Instamatic and my first subject was the cat. When I entered the sixth grade I got a Minolta rangefinder camera, Hi-Matic F (they are still available on EBay). When I was in junior high school I started to do my own black and white darkroom work. I was completely self taught.
I graduated onto a Minolta SLR (SRT-101), then a Nikon (which was stolen), and an Olympus OM 1 that became my main camera for the next 20 years!
After a long hiatus I bought myself a Leica M6. That was followed by experiments in the large and medium size formats. At the moment I use a Canon digital SLR. It is much easier to fit digital into my lifestyle right now.